After years of extensive professional experience, we thought that it was necessary to join forces and find new ways to proceed in Architecture. Architecture that never falls out of fashion, rational, sustainable and spatially rich. Our aim is demonstrating that this is possible without increasing its cost.
This is how Enmedio Studio started. A fresh, new and enormously experienced studio in construction, which in a period of crisis has been reinforced so as not to fall into the same mistakes that caused it.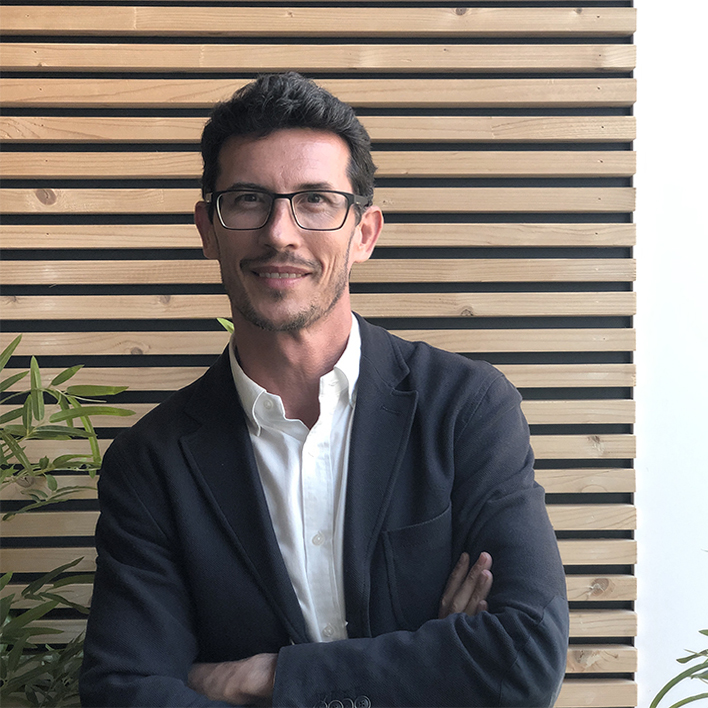 David Moreno Rangel
PhD architect, MSc, MArch, PassivHaus Designer. Enmedio Studio Director.
+
PhD architect
Special Award to end of degre, II national Dragados awar, a special award to PhD
Professor of architectural constructions I of the School of architecture Seville
Master in Architectural and historical heritage
Master in sustainable architecture and city
Master of expert opinion, rehabilitation and intervention of buildings
Technical Secretary of the mcas
passivhaus designer certificate. PHI Darmstadt, Germany.
building performance analysis certificate GBC
international passivhaus association member
international solar energy society member
He began his path in the architectural world by the hand of Antonio González Cordón, who he collaborated with for two years. He founded his own professional studio in 2004, winning many national and international awards and getting an extensive experience in design, drafting, estimating and construction management. He has obtained projects publications in magazines and multiple participations in conferences. PhD cum laude "toward an architecture for life: four actions-reactions that allow outlining the new conditions of the architectural to the sustainability problem." Active in multiple research projects R & D in both university and outside it. Books, book chapters and articles in high impact national and international journals.
Elena Vilches Álvarez
Architect, MSc. Enmedio Studio Director.
+
Architect
MSc in Sustainablem Environmental Design, Architectural Association School of Architecture, Londres.
As a full-time architect, March 2010 to July 2015, in the office of Guillermo Vázquez Consuegra, one of the most prestigious architects in Spain, I had great opportunities to really hone my design thinking and technical skills. During this period, she took part in the development of a wide range of national and international projects, ranging from urban planning to detailed construction design thereby enabling me to acquire an extensive professional knowledge in urban scale and architecture. To be highlighted the Renovation and Conversion of the Luxembourg Old Justice Palace into New Minister of Foreign Affairs (1st Prize and completion of the building in 2016), the Restoration and Renovation of the Archaeological Museum of Seville, the restricted competition Nantes Interior-BIA Bottière Chenaie (2nd Prize), or the Centre of Interpretation for the Murcia Medieval for the preservation of the Archaeological site of San Esteban, Murcia (finalist).
In 2015, she was awarded a fully funded scholarship sponsored by Talentia Fellowship Program by the Ministry of Economy, Innovation, Science and Employment of Spain, to study the MSc Sustainable Environmental Design Programme at the Architectural Association School of Architecture in London. The final dissertation 'Learning from the Traditional Architecture of Cádiz. Guidelines for Retrofitting Historical Buildings' participated in prestigious congress such as the PLEA 2017 in Edinburgh.
Álvaro Velasco Cabello
Coordinating Architect. Consultant for CTE compliance and energy efficiency.
Encarna Márquez Garfia
Architect. Technical architect. Heritage intervention specialist.
Carlos Macías Pérez-Ventana
Architect. BIM coordinator.
Jara Sánchez Alba
Architect. Master in Security and PRL. Specialty in interior design.
Paula Esquivias Fernández
Doctor of Architecture, MSc. Specialist in Environmental Certifications and Natural Lighting.
Carlos Moreno Martínez
Civil Engineer, PassivHaus Tradesperson, MSc Civil Engineer, MSc FEA&Simulations
Fernando Lázaro
Karina García
Aisha Hallar
Carolina Laguna
Alejandro Vaquerano
Miguel Frías
Elena Bellido
Jesús Píriz
María Navarro
Daniel Tobalo
Isabella Ford
Rosa Barrero
Beatriz Moreno
Vicky Martin
Irene Manrique
Violeta reina
Juan Pedro González
Jerónimo Moreno
Luis Angulo
Domingo Galán
Gabriel Velasco
Isabel Rodríguez
Ángel Hernández
María Ruano
Fernando Prieto
Elena Roldán
Rafael Cano
Manuel Fernández
Manuel Gabaldón
Laura Muñoz